Returns & Warranty
RETURNS | 14 DAYS REVIEW PERIOD
RIGHT OF WITHDRAWAL
You have the right to withdraw from the contract within a period of 14 days without giving reasons. The withdrawal period expires 14 days after the day on which you or a third party designated by you, who is not the carrier, acquires physical possession of the good.
PLEASE NOTE: Some SALE items are NOT possible to exchange or return. If this is the case, it will be stated with the article.

To exercise the right of withdrawal, you must inform us (Gear Point | GFP B.V., Siliciumweg 26, 3812 SX Amersfoort - The Netherlands, [email protected], Telephone: + 31 033 720 0999) via an unambiguous statement (e.g. in writing by post , fax or e-mail) of your decision to withdraw from the contract.
You can use the return form for withdrawal that can be downloaded here, but you are not obliged to do so. To comply with the withdrawal period, it is sufficient for you to send your communication concerning your exercise of the right of withdrawal before the withdrawal period has expired. However, it is wise to enclose a return form since we then immediately have your details to proceed with the processing of your return.
CONSEQUENCES OF WITHDRAWAL
If you cancel the agreement in full, you will receive all payments you have made up to that point, including delivery costs (with the exception of any additional costs resulting from your choice of a method of delivery other than the cheapest standard delivery offered by us) immediately. , and in any event no later than 14 days after we have been informed of your decision to withdraw from the contract.

If you wish to return only part of the order, the shipping costs, for the initial shipment to you, will not be refunded to you.

We will pay you back using the same means of payment as you used for the original transaction, unless you have expressly agreed otherwise; in any event, you will not be charged any fees for such reimbursement. We may withhold reimbursement until we have received the goods back or you have provided evidence that you have sent back the goods, whichever is the earliest.

You must return or hand over the goods to us without delay, but in any case no later than 14 days after the day on which you communicated your decision to withdraw from the contract. You are on time if you return the goods before the period of 14 days has expired.
The direct costs of the return shipment are for your account.
However, please note that when you return items, and the final order amount falls below 100 euros, the shipping costs of the initial shipment will be deducted from the amount credited to you.
VALUE REDUCTION
You are liable for any diminished value of the goods if this is the result of the use of the goods beyond what is necessary to establish the nature, characteristics and functioning of the goods.
Reasons for value reduction or non-return are:
Damaged packaging so that the item cannot be sold as new;
Labels no longer present, and on the article, so that the article cannot be sold as new;
Packaging material is no longer present, so that the item cannot be sold as new;
Visible traces of use, dirt (also smoke damage) or damage that has occurred to the product as a result of which this product can no longer be sold as new. Returns are then no longer possible.
Excluded from the right of withdrawal is a consumer purchase that pertains to the delivery of:
products manufactured according to consumer specifications, which are not prefabricated and which are manufactured on the basis of an individual choice or decision of the consumer, or which are clearly intended for a specific person;
products that spoil quickly or have a limited shelf life;
products that are not suitable to be returned for reasons of health protection or hygiene and of which the seal has been broken after delivery. Think of first aid materials, underwear, socks and care products;
products which, due to their nature, are irrevocably mixed with other items after delivery;
electronics, audio and video recordings and computer software of which the seal has been broken after delivery;
redeemed or completed value checks or vouchers.
EXCHANGE IN THE STORE IN AMERSFOORT (WITHIN 14 DAYS)
You are of course very welcome in our store in Amersfoort for exchange or return. Look here for the opening hours or make an appointment by telephone via [email protected]. Returns or exchanges are possible up to 14 days after purchase.

If you have purchased an item in the physical store, you can return it within 14 days, and you will receive a voucher/discount code for the purchase amount. Reimbursement in cash or by bank transfer will not be made for store purchases.

Do not forget to bring the original packaging and the purchase receipt / invoice!
RETURN PROCEDURE | RETURN TO OUR WAREHOUSE
In order to handle your return smoothly and quickly, we advise you to fill in the return form as completely as possible;
Return this form together with the product and the original purchase receipt / invoice within 14 days**;
On the return form you will find the address to which you can return the desired items;
The return shipping costs for sending are always for your own account, unless it concerns an exchange of an item with a defect or damage.
As soon as we have received your shipment in our warehouse, we will check it. We will apply a value reduction for products that are damaged or incomplete. We will provide the refund within 14 days.
*The return form is available for download here.
**Do you need more than 14 days to return the product? Then fill in the return form and send it to our customer service within 14 days after purchase via: [email protected]. You then have an additional 14 days to return the product!
EXAMPLE OF A RETURN METHOD THAT ARE NOT ACCEPTED
Returns must always be properly packaged and returned to us. This means in an outer box or shipping bag so that the original packaging of the item remains in new condition.

In addition, as of 30-06-2023, returns of shoes will only be accepted if they still have a completely original and undamaged yellow NO RETURN label that was applied by us during inspection and shipment of the item (before shipment to you).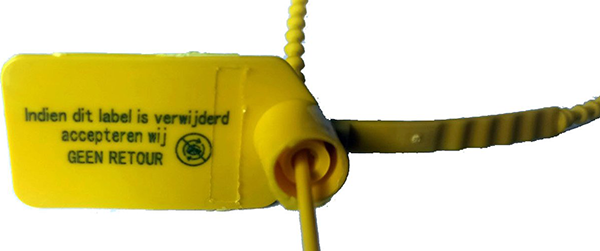 Translation yellow label text: "If this label has been removed, we do NOT accept RETURNS"
Below are some examples of packaging/return methods that will NOT be accepted, or to which value reduction will be applied: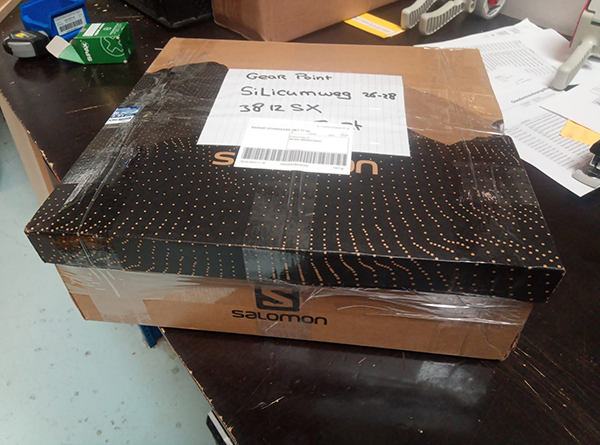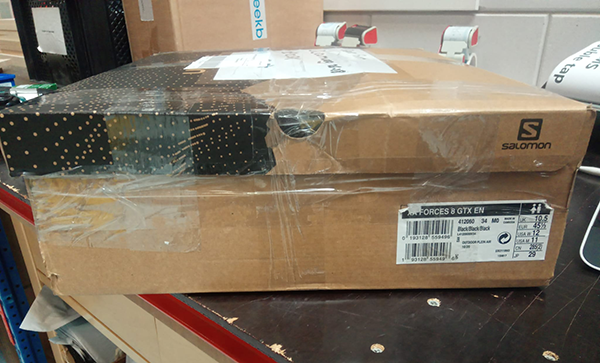 WARRANTY
The warranty period indicated by the manufacturer applies to all articles offered by Gear Point on a Carry-In basis. This means that you can hand in the item to us or that you send it to us at your own expense.
If you have a warranty case, please always contact us first before returning the item.

If an item falls within the warranty conditions of the manufacturer, Gear Point will make a claim with the supplier after notification. Once agreement has been reached with the supplier on how to handle the claim, we will contact you to coordinate and finalize the claim with you.


In most cases, our suppliers offer a 1 to 2 year warranty on manufacturing defects or defects due to (normal) regular use. This means: To use the product for which it is intended/designed. If Gear Point or the manufacturer is of the opinion that an item should first be returned for assessment, we will contact you about this.


You have a 6-month warranty on batteries and rechargeable batteries. For watch batteries we give 1 year warranty from the moment of purchase of your watch. If the battery is empty after 1 year, we advise you to offer the watch to a jeweler in your area for a battery replacement. They can replace the battery for you.
Do you have questions about returns, exchanges or warranty?
Please contact us on 033 7200 999 or [email protected]